Politics & Legislative Advocacy (pg 2)

---
Politics

In 1980, Nancy volunteered in the N.H. Presidential Primary campaign for Senator Edward ("Ted") M. Kennedy

In 1984, she chaired the N.H. Presidential primary "comeback" campaign of Sen. George McGovern.

| | |
| --- | --- |
| At the N.H. Secretary of State's office signing up for the NH primary. | At Nancy's law office at Rines and Rines, Concord. |
In 1985, she ventured out on her own as a solo practitioner and continued a focus on politics. In 1988 she was the Democratic nominee to run (alas, unsuccessfully) against the Republican 20-year incumbent holding the District 5 seat on the N.H. Governor's Executive Council. She was also the Democratic nominee in 1990. A liberal Democrat in a Republican district, the issues she raised pertaining to conflicts of interest in state contracts and campaign contributions captured the attention of the press as did her more radical ideas of awarding state contracts based, in part, on a business' energy conservation policies, use of recyclable materials and availability of on-site day care.

In 1991, after her favorite candidate, Senator McGovern, took himself out of that presidential race, she agreed to help organize "her" District 5 southern New Hampshire cities and towns for a young Arkansas governor. When he won the election, both President and Hillary Clinton remembered their New Hampshire friends, often inviting them to the White House for political and social events. It was overwhelming to visit the White House she had picketed while a student at George Washington University, less than 20 years earlier.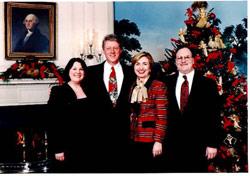 Nancy, President and Hillary Clinton, and Rev. Richard M. Stower at a White House holiday party.
In 1996, Nancy joined Hillary and other N.H. Bill Clinton supporters as Hillary delivered the President's N.H. primary papers to the NH Secretary of State's office for the President's re-election race.

Between 1998-2002, on her radio show at Nashua's WSMN, AM-1590 , Nancy interviewed many political figures, including N.H. Governor (now U.S. Senator) Jeanne Shaheen.

In 2000, Nancy supported Vice President Al Gore in his presidential bid. Always remember the hanging chads and the terrible lesson on the importance of Supreme Court nominations!

(In 2004, Nancy volunteered in N.H. for Sen. Kerry. Remember "swiftboating.")

In 2007, when Senator Hillary Clinton announced her candidacy, Nancy jumped aboard immediately and campaigned in New Hampshire, Massachusetts and Rhode Island. (Hillary won all 3 states in the 2008 primaries.)


Nancy organized the July 20, 2009 N.H. leg of Senator McGovern's book tour promoting his biography of Abraham Lincoln. Both the Portsmouth event at Riverrun Bookstore (photo below) and the Concord event at Gibson's Bookstores had overflow crowds and all the books were sold.

2016: Once again, the New Hampshire primary demanded Nancy's time, attention, and dedication in the effort to elect Hillary as the first woman president of the United States. We didn't win the N.H. primary, but we set up well for the general election in the fall, and we won New Hampshire. But, there would be no celebration because Hillary was prevented from becoming the first woman president of the United States. The nightmare that followed continues at this writing.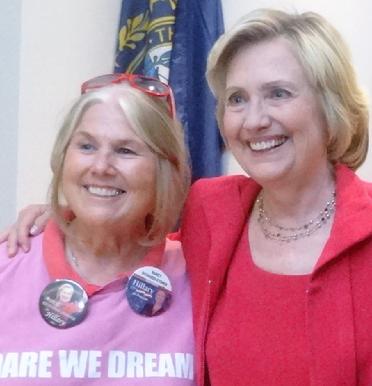 Nancy and Hillary in New Hampshire, 2016
During the 2019-20 N.H. primary campaign season, Nancy supported U.S. Senator Amy Klobuchar (Minnesota) in the New Hampshire Democratic presidential primary. Amy's excellent N.H. campaign pushed "snow woman" into the national spotlight where she continues to shine, especially for her efforts to secure voting rights and election security, and to demand accountability for the shame and danger of the Trump-inspired insurrection of January 6, 2021. Amy has bi-partisan success in legislative action at a time when most of Washington is gridlocked by partisan strife because of the tragedy of the 2016 presidential election. Amy is an attorney, a Mom, has a supportive husband, was a very successful prosecutor in Minnesota, and has great sense of humor. She has many good friends and keeps her feet on the ground. Amy is like the other women political leaders Nancy knows and admires. Senator Klobuchar comes from a state the Democrats need to win. Did you see her during the Kavenaugh hearings? She showed him for the unqualified brute he was, all the while showing grace and class.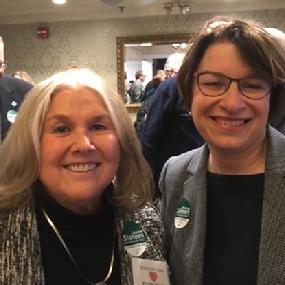 Nancy and Senator Amy Klobuchar in Manchester, New Hampshire, March, 2019
When Joe Biden won the Democratic nomination, Nancy enthusiastically went to work for Joe, for whom she had interned on the Senate Banking Committee's subcommittee on Consumer Affairs in 1976, and for whom she had volunteered as a member of his N.H. presidential primary steering committee during the 1988 N.H. primary.
Over the years, Nancy has met many political leaders.
| | |
| --- | --- |
| 1988. Nancy and Rep. Geraldine Ferraro (D. N.Y.), the 1984 Democratic Vie-Presidential Nominee and first female vice-presidential nominee of a major political party. | 1988 Presidential candidate, Rev. Jesse Jackson, Nancy's son, Jonathan (age 8) and Nancy (sporting a Biden for President button and explaining why to Rev. Jackson) |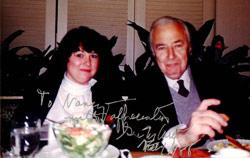 1988 photo: Nancy celebrating the 20th Anniversary of Senator Eugene McCarthy's 1968 NH Primary race ("Clean for Gene") with Senator McCarthy, whose strong showing on his anti-war platform resulted in President Johnson's decision to drop out of the '68 presidential race.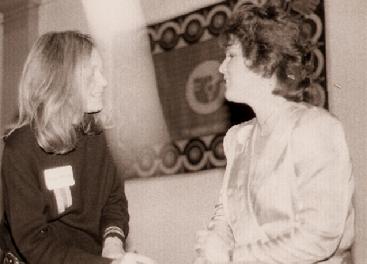 Nancy and Gloria Steinem, 1985
Home
|
Contact Us
|
About Us
|
Articles
|
Politics & Legislative Advocacy
This website is informational only and no attorney client relationship can be created by your use of this website. In order for an attorney client relationship to be formed with our office, a scheduled conference between you and an attorney, at which you agree to representation and terms, is required. This website may be considered advertising by various states' court rules. Nothing on this website can be relied upon or used to avoid any taxes or penalties. See IRS Circular 230.
© Copyright 2021, Nancy Richards-Stower